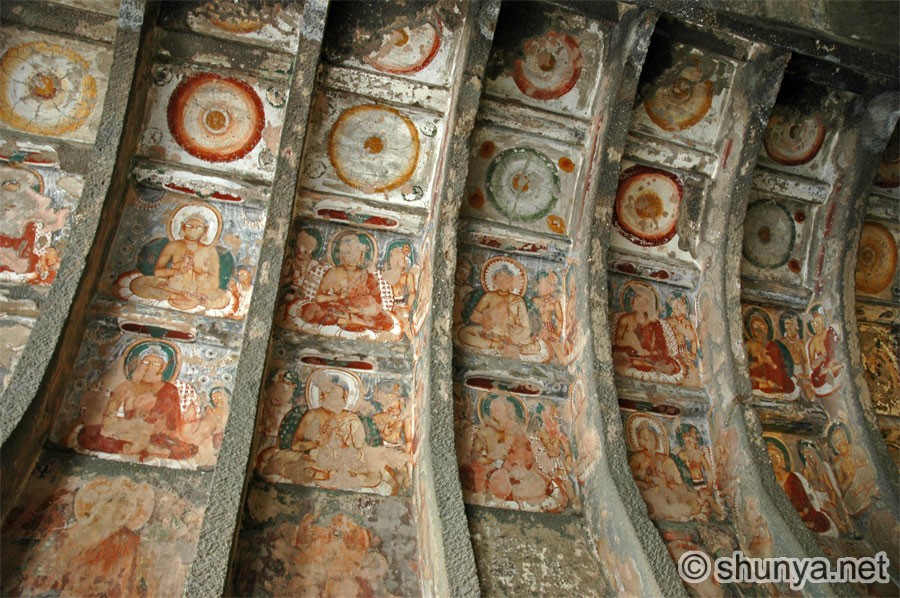 http://youtu.be/vmQP69exo1o
The Ajanta Caves (Ajiṇṭhā leni;
Marathi
: अजिंठा लेणी) in
Aurangabad
district of
Maharashtra
,
India
are 29
rock-cut
cave monuments which date from the 2nd century
BCE
. The caves include paintings and sculptures considered to be masterpieces of both Buddhist religious art (which depict the
Jataka
tales)

[

1

]

as well as
frescos
which are reminiscent of the
Sigiriya
paintings in
Sri Lanka
.

[

2

]

The caves were built in two phases starting around 200
BCE
, with the second group of caves built around 600
CE
.

[

3

]
Since 1983, the Ajanta Caves have been a
UNESCO
World Heritage Site
. The caves are located in the Indian state of Maharashtra, near Jalgaon, just outside the village of

Ajinṭhā

(

20°31′56″N

75°44′44″E

 / 

20.53222°N 75.74556°E

 /

20.53222; 75.74556

). Caves are only about 59 kilometers from
Jalgaon
Railway station (on Delhi - Mumbai, Rail line of the Central railways, India); and 104 kilometers from Aurangabad (from
Ellora Caves
100 Kilometers).
Located near Aurangabad in Maharashtra, the 29 caves at Ajanta are situated in a horseshoe-shaped ravine. The cave walls are covered with painted narratives of the Jataka tales. The 34 caves at Ellora are excavated out of the vertical face of the Charanandri hills.